Skip to Content
Custom Orthotics Plans
Custom made orthotics are perfect for treating chronic foot pain. It's a device using a three-dimensional representation of your foot, made of proper materials to your condition. We create them specifically for your body to address functional or structural food conditions that impede your movement, cause pain or discomfort. Faulty foot mechanics and abnormal gait patterns can also be relieved with orthotics. They provide stability, help your balance, and give the support your feet need. Best of all – they're removable, allowing you to transfer them to other shoes discretely. Contact us today to schedule your appointment for custom made orthotics.
What Can I Expect?
We make the custom orthotics plan easy for you. During your initial appointment, we'll evaluate and measure the size and shape of your feet. We'll ask different questions as well, including medications you're taking, allergies, current symptoms, issues, your occupation, activities you enjoy doing or do for work, and preferred footwear choices. Our chiropodist will perform a biomechanical assessment and gait analysis to get a better look at your gait, range of motion in your joints, and address any structural or functional abnormalities in your lower limbs. This in-depth process allows us to get to the root of your issue and create a solution that works best for you. After this assessment, we'll go over treatment options and if custom orthotics will benefit you.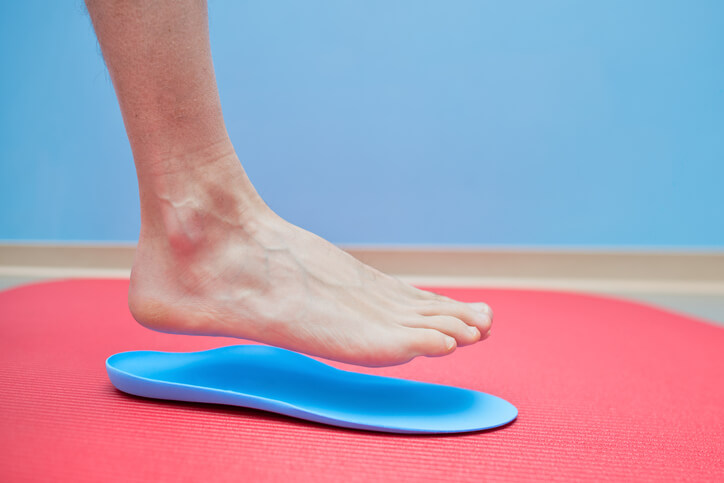 Personalized Comfort and Relief
If we establish that custom orthotics will help, we'll cast your feet using a three-dimensional mold or a laser scanner. After we cast your feet, we'll send the data to our partners at Foot Levelers. They will then create your custom orthotic. Please allow seven to 14 days for this process. We'll then ask you to return to our office to fit your orthotics, test how they feel, and address how they affect your issues. It's important that your orthotics fit properly in your shoes and don't cause any discomfort or pain. We'll also go over specific instructions on how to break in your new orthotics. Finally, we'll discuss signs to look out for that may suggest your new orthotics aren't functioning as they should. From there, we can adjust them, your solution, or address additional relief plans.
Schedule Your Appointment Today
You don't have to live in pain or discomfort with your feet and legs. Custom made orthotics help alleviate chronic issues and can help you live a more comfortable and healthier life. Foot imbalance or dysfunction can lead to worsening problems if left unaddressed. By failing to provide relief, your legs, knees, spine, shoulders, and ankles can develop pain and other symptoms. Everyone's feet are unique, requiring a unique approach to balancing them. Balancing your feet and supporting your spine can help relieve pain throughout your body and improve your overall health and wellness. If you have plantar fasciitis, lower back pain, ankle instability, chronic knee pain, or other musculoskeletal conditions, custom orthotics may be right for you. We'll help you establish the root of the issue and provide the relief you deserve. Some health care plans also cover the cost of orthotics.
Schedule Your Free Consultation Today!