Skip to Content
12 Days of Christmas
Join us as we celebrate the count down to Christmas! Find special one-day-only holiday savings and get the best holiday gifts for yourself and loved ones for less.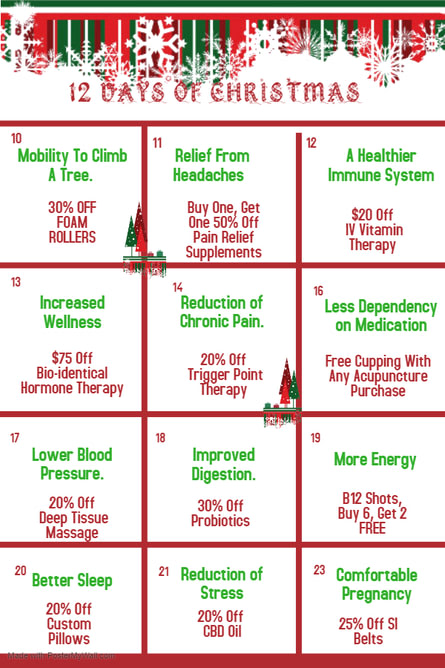 Be Merry & Well Event
Can't lose weight, feeling depressed and anxious, not sleeping well, getting sick more often, just not feeling like yourself? You may be suffering from a hormone or vitamin imbalance. Come have a glass of wine with us and learn more about how you can treat these symptoms naturally and get your life back! 
This is a FREE event. Enjoy a complimentary stress relief community acupuncture treatment, chair massage, Cryo facials, B12 shots, and more.
RSVP: https://www.eventbrite.com/e/be-merry-live-well-tickets-84748897233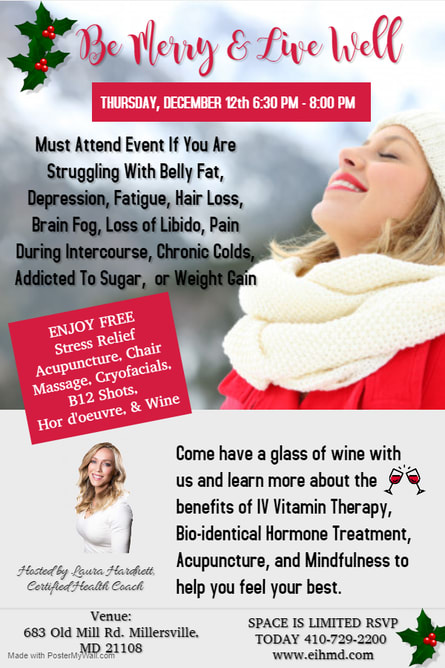 Ugly Sweater Event
Join us on Friday, December 20th as we pull out our ugliest Christmas sweaters for "National Ugly Sweater Day". Prizes will be given for most "Tacky" Christmas sweaters for one team member & patient. This is going to be a lot of fun! We hope you will join us!