Skip to Content
Cox Flexion Distraction
What is the Cox Flexion Distraction Technique?
Cox Flexion Distraction is a method of gently and carefully adjusting your spine so that it can heal naturally. Our chiropractor performs this using gravity as a spinal manipulation non-surgical technique. We adjust your spine naturally with less pressure in the adjustment when needed. This is a common technique used for disk injuries for the alignment. IF you feel the need for our help, contact our team. Our Millersville, MD chiropractor center is always open to welcoming new and returning patients. Contact us today to schedule an appointment. We're also happy to answer any questions or concerns you may have about your discomfort or procedures.
Benefits of Cox Flexion Distraction
As chiropractors, we have a lot of tools, training, and techniques at our disposal to give you the relief you need and deserve. If you have been suffering from back and/or neck pain or pain that continues down your arms or legs, we may be able to help. Learn about this technique and ask us about it when you're in our office.
There are many benefits of conducting the Cox Flexion Distraction technique. They include:
Lumbar disc herniation
Cervical disc herniation
Neck and Arm Pain
Low Back Pain
Leg Pain
Radiculopathy (Leg Pain)
Thoracic disc herniation
Spondylolisthesis
Spinal Stenosis
Degenerative disc disease
Facet syndrome
Pelvic pain
Headache
Compression defects
Loss of spine lordosis
Loss of range of spinal motion
Whiplash-type injuries
Persistent pain after back surgery (Post-Surgical Continued Pain – Failed Back Surgical Syndrome – FBSS)
Scoliosis (not to cure, but to maintain mobility of the curve)
Osteoporosis
Pregnancy back pain
Subluxation
Postural faults
Mechanical back pain
Osteoarthritis of spine
Patients unable to tolerate vigorous adjustment
Coccydynia
Mechanical back pain (such as that accompanying ankylosing spondylitis, collagen vascularizing diseases, pelvic pain, pregnancy)
Fibromyalgia
Neurological Diseases (such as multiple sclerosis, cerebral palsy, stroke)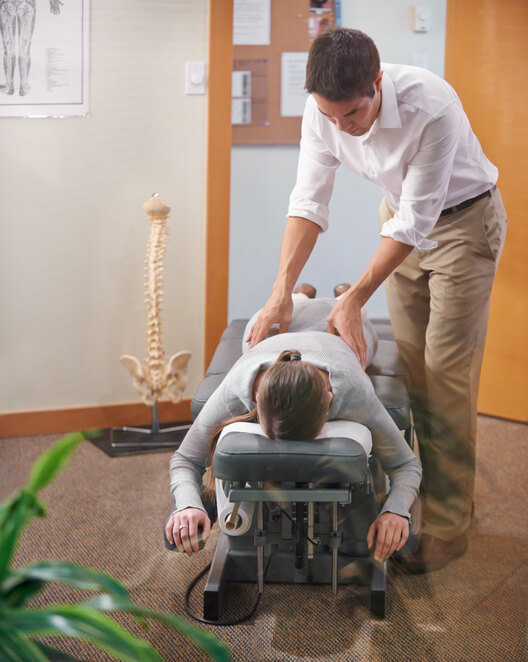 What to Expect
This technique only takes about five to ten minutes for the adjustment. Consistency is key, along with incorporating other treatments based on your consultation. Most patients describe immediate relief. We'll use our specialized chiropractor table with moving parts that can separate different areas of your spine. This then allows for the growth of disc space between your bones, providing relief. Ultimately, this reestablishes the correct alignment in your vertebrae, giving you a greater range of motion than you had before the deterioration.
We use gravity and small manipulations to adjust your spine in a very normal range of motion. We do not apply any quick thrusts, jerks, or apply any strenuous pressure. There's nothing to worry about. Instead, you gain the benefit of immediate relief. After we're finished, you may notice decrease pressure in your spine, improved posture, and better circulation in your arms and legs. All of this decrease of discomfort and pain can then lead to a higher level of wellness.
Contact Us Today to Schedule Your Appointment
If you have been experiencing any of the aforementioned issues, you may benefit from this technique. Our professional chiropractors are always taking in new patients and providing them with the much-needed relief they deserve. Talk to us today and schedule your appointment. Whether you're a returning client or a new patient, we'll take care of you. Everyone is different and requires a unique approach to relieving pressure and realigning their spine. Effective Integrative Healthcare looks forward to treating you next at our Millersville, MD chiropractic office.
Schedule Your Free Consultation Today!