Skip to Content
Our Massage Therapists Can Ease Your Pain
With countless home, work, and family responsibilities, you are sure to put undue stress on your muscles. As a result, you may aggravate old injuries or experience nagging aches and pains. The good news is there is a solution. Effective Integrative Healthcare provides massage therapy for patients in Crofton and Millersville, MD to alleviate their discomfort. We will help you relax and recover efficiently. Our team has extensive experience, and we are committed to eliminating our patients' chronic pain, minimizing their muscle aches, and enhancing their overall well-being. Massage therapy is among the many chiropractic care specialties we are proud to offer. Call our friendly team today to learn more.
What Is Massage Therapy?
Massage therapy is the calculated manipulation of your body's soft tissues. The massage therapists at Effective Integrative Healthcare have completed thorough training to understand the best practices and techniques to provide you with relief. Our primarily manual approaches include fixed or movable pressure as well as holding or moving your muscles. An effective massage will improve blood flow, reduce muscular tension, enhance tissue healing, and affect the nervous system either through sedation or stimulation. We are proud to offer this form of treatment to children and adults as necessary.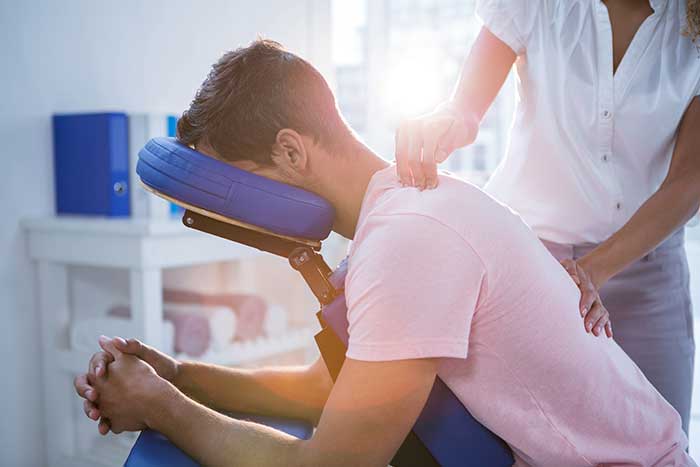 How to Prepare for Massage Therapy
If you think massage therapy can alleviate your pain or allow you to relax, schedule an appointment at Effective Integrative Healthcare in Crofton or Millersville, MD. Our experts will complete a physical examination using diagnostic equipment and tests to determine the source of your discomfort or ailments. Then, we will devise a massage therapy plan to improve your health. To prepare for your massage therapy session, we recommend:
Being strategic about scheduling your appointment
Dressing in loose, comfortable clothing
Breathing normally
Drinking plenty of water
Avoiding eating immediately before your visit
Communicating with your therapist
Understanding the Different Types of Massage Therapy
There is an abundance of different massage therapy styles, each of which offers unique benefits. During a consultation, our massage therapists will make an effort to understand your circumstances by discussing your lifestyle, past injuries, and current pain points. This will help us create a personalized massage therapy treatment plan that will include one or more of the following techniques:
Deep Tissue Massage – This will help relieve severe tension in connective tissues and muscles.
Decongestive Therapy – Often used in conjunction with breast cancer treatment, decongestive therapy can treat lymphedema.
Myofascial Release – For individuals with limited mobility, we recommend myofascial release. It eliminates pain and increases range of motion.
Shiatsu – Our massage therapists apply pressure with their thumbs, fingers, and palms during this type of massage, which also involves stretching.
Swedish Massage – A Swedish massage involves using long strokes, deep circular motions, kneading, and tapping to treat pain, loosen joints, and improve circulation.
Sports Massage – Similar to a Swedish massage, we adapt sports massages to athletes' individual needs.
Trigger Point Therapy – A trigger point massage focuses on relieving discomfort from muscle knots that could lead to headaches and other body pains.
Benefits of Massage Therapy
Extreme relaxation is the first thing that comes to mind for many people when they think about a massage. While certain massage therapy techniques can result in such a mental state and often provide pleasure, these are not the only benefits of massage therapy. Our goal is to improve your overall well-being through massage. This happens as a result of:
Reducing muscle tension
Relieving muscle spasms
Increasing joint and limb flexibility
Relieving stress
Improving blood circulation
Healing soft tissue injuries
Reducing scar tissue formation
Improving posture
Enhancing sleep
Strengthening the immune system
Reducing joint pain
Our Post-Massage Recommendations
We want you to get the most out of your massage therapy sessions, so we have a list of recommendations for post-massage care that we encourage you to follow. After your session is complete, we suggest:
Hydrating
Stretching
Eating a light snack
Resting if possible
Bathing in warm water
Paying attention to your body's reaction
Contact Effective Integrative Healthcare Today
Medical massage therapy is an efficient way to treat aches and pains, improve circulation, and increase your range of motion. The chiropractors at Effective Integrative Healthcare specialize in several styles of massage therapy, and we have an acute understanding of the human body that allows us to make informed recommendations regarding our patients' care. If you are eager to reap the benefits of professional massage treatment in Crofton or Millersville, MD, contact us today to schedule an appointment.
Schedule Your Free Consultation Today!