Skip to Content
Natural Dry Needling Treatment for Maryland Patients
Effective Integrated Healthcare is proud to offer a wide range of treatment options to eliminate muscular pain. Instead of limiting you to one or two treatment options, our professionals have experience in both ancient and modern techniques. Dry needling is a newer form of therapy compared to acupuncture, and its uses are different. In our office, we can use both forms of treatment for pain-free relaxation.
What Is Dry Needling?
Myofascial trigger point dry needling is a treatment to restore full and normal function to constricted muscles. This technique is typically used in areas with tight bands or knots in the muscle and is an alternative to Trigger Point Injection therapy.
Dry needling utilizes sterile, thin monofilament needles, like acupuncture. When inserted into tight muscle groups, dry needling encourages the contracted muscles to release to their normal length. At the same time, the needles increase circulation and decrease the inflammation that causes pain.
How Dry Needling Helps Crofton & Millersville Patients
Dry needling is one of the best ways to relieve muscle stiffness, soreness, and pain within a short period of time. If you live an active lifestyle, chances are you deal with muscle fatigue on a frequent basis. Dry needling can boost muscle recovery and get you back to the activities you love faster.
Other patients may benefit from the relaxing benefits of dry needling. The procedure itself has minimal discomfort and pain, and is used in our local chiropractic office to treat a number of conditions.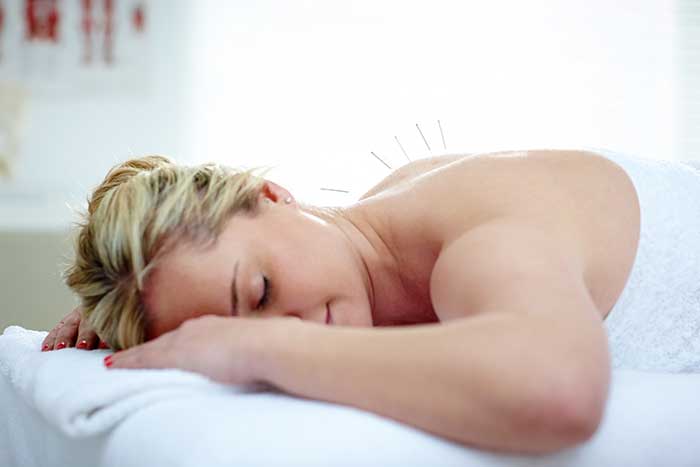 Is Dry Needling Therapy Right for You?
If you have a musculoskeletal injury, your doctor may recommend dry needling treatment. This technique has proven to be effective and safe at treating muscle soreness and pain, as well as a variety of musculoskeletal conditions. For most people, dry needling is extremely safe and a viable way to promote muscle recovery.
However, not every patient should undergo dry needling. If you have a fear of needles or reactions to injections, our team can help you find a therapy or treatment that works for you. Patients with blood clotting disorders or pregnant women may prefer chiropractic adjustments or massage therapy instead.
Not every patient is the same, which is why we don't treat them as such. The team at Effective Integrative Healthcare will evaluate your condition and see if you will benefit from dry needling. Depending on your condition and pain, we may recommend other chiropractic therapies such as adjustments, hydromassage therapy, or physical therapy.
Get immediate pain relief: Dry needling allows patients to decrease pain from multiple conditions. While most people undergo dry needling for muscle recovery, it can provide immediate pain relief for conditions such as headaches, tension, and stiffness. This makes it easier to go about your day and get back to the activities you love without pain and discomfort.
Treat pain without surgery or prescription painkillers: Many patients reach for painkillers when dealing with muscle pain. However, painkillers can quickly become addictive (or harmful to the body) if used in excess. Therapies like dry needling work to relieve pain without the need for surgery or painkillers. Our team targets specific points on your body to relieve pain in a natural way.
Boost muscle recovery after physical activity: Wouldn't exercising be so much better if muscle soreness didn't exist? With therapeutic chiropractic techniques like dry needling, you can minimize recovery time for your muscles. Dry needling works to relieve pressure and promote the flow of oxygen to your tissues, so you experience less soreness after a workout.
Prevent overuse injuries: Straining yourself too much at the gym or work can cause significant harm to your body. Seeking treatment for your muscle pain ensures you are giving your body the tools it needs to recover. Dry needling can prevent you from overusing your muscles, and subsequently injuring yourself.
Reduce muscle stiffness and discomfort during the day: It can be hard to do your best work when you're in pain. Muscle pain can also prevent you from sleeping comfortably at night, increasing your levels of stress and fatigue. Dry needling works to eliminate your muscle stiffness, so you can put your best foot forward in the office and at home.
Dry Needling vs. Acupuncture: What's the Difference?
While dry needling and acupuncture look similar, they aren't used for the same reasons. Acupuncture, an ancient and traditional therapy in Chinese medicine, is used to balance energy and improve circulation throughout the body. Dry needling, on the other hand, was only introduced in the past few decades. It targets muscle groups known as trigger points in the shoulders and back that tense up under strain and stress to create painful or sore knots. Dry needling pricks the knot to help it release into a normal, elongated form.
While acupuncture is focused on channel theory to promote the body's natural healing capabilities, dry needling relies on strong stimulation of muscle groups to get them to release. Inserting a needle into strategic points on the body works to normalize your blood supply, while reducing muscle tension.
Dry needling and acupuncture are both therapeutic ways to treat pain and promote healing. You can read our Acupuncture page to find out more about this complementary form of treatment and see if it works for you.
Quality Dry Needling Treatment in Crofton & Millersville
After a free consultation, your dry needling therapy will begin in our office. Depending on the targeted muscle groups, you may need to remove your shirt and replace it with a hospital gown so your therapist can reach your back and shoulders.
Next, your therapist will begin to strategically insert needles. This process is not painful, and most patients aren't even aware of the needles. To treat the trigger point, we may use needles to surround the point of pain and release muscle tension or use the needle in a short in-and-out movement to target the muscle group.
A typical dry needling session takes roughly 30 minutes, depending on the amount of needles used and the severity of your pain. Some patients feel immediate pain relief, while others may not notice benefits until 24 hours afterward. During this period, you will notice that your symptoms improve for multiple days or longer. While dry-needling is not a cure-all, it provides significant relief from muscle pain and soreness and can help you focus your attention on more important things.
Chiropractic Services at Effective Integrative Healthcare
Our office is proud to offer comprehensive chiropractic care to patients across Maryland. Dry needling is just one of the many treatment options we offer to our patients, all without the use of prescription drugs or surgery. If you are seeking solutions for your chronic pain and overall health, visit our Chiropractic Care page, Physical Therapy & Rehab page, and Medical Pain Relief page for a complete understanding of the many treatments we offer.
Schedule a free consultation in our Millersville or Crofton offices. Our team will evaluate your personal health situation and suggest the most effective treatments in order to help you achieve a complete recovery. Treatment for your condition shouldn't take a "one size fits all" approach, which is why we give each patient the care and assistance they need. Don't let pain get in the way of your active lifestyle. Schedule your dry needling session at our Crofton or Millersville chiropractic office today!
Schedule Your Free Consultation Today!