Skip to Content
Nutritional IV Therapy in Millersville, MD
Effective Integrative Healthcare offers nutritional IV therapy as part of our well-rounded health programming in the Millersville, MD area. Designed to support wellness and deliver micronutrients that may be lacking in your diet, this process allows for the delivery of these substances through an IV bag, right here in our office. It's a simple procedure that provides your body with a custom series of vitamins that can help with everything from easing a hangover to supporting an active lifestyle.
When it comes to vitamins, absorption is a key factor, and the IV bag delivery system helps make sure this is happening. It's a fantastic way to help support your healthy lifestyle, alongside other important factors, such as getting good sleep, managing stress, and exercising. These days there seems to be more and more nutrient deficiencies popping up in the U.S. Without proper balance of nutrients in the body, you can start to see problems such as inflammation, weight loss, infections, and more.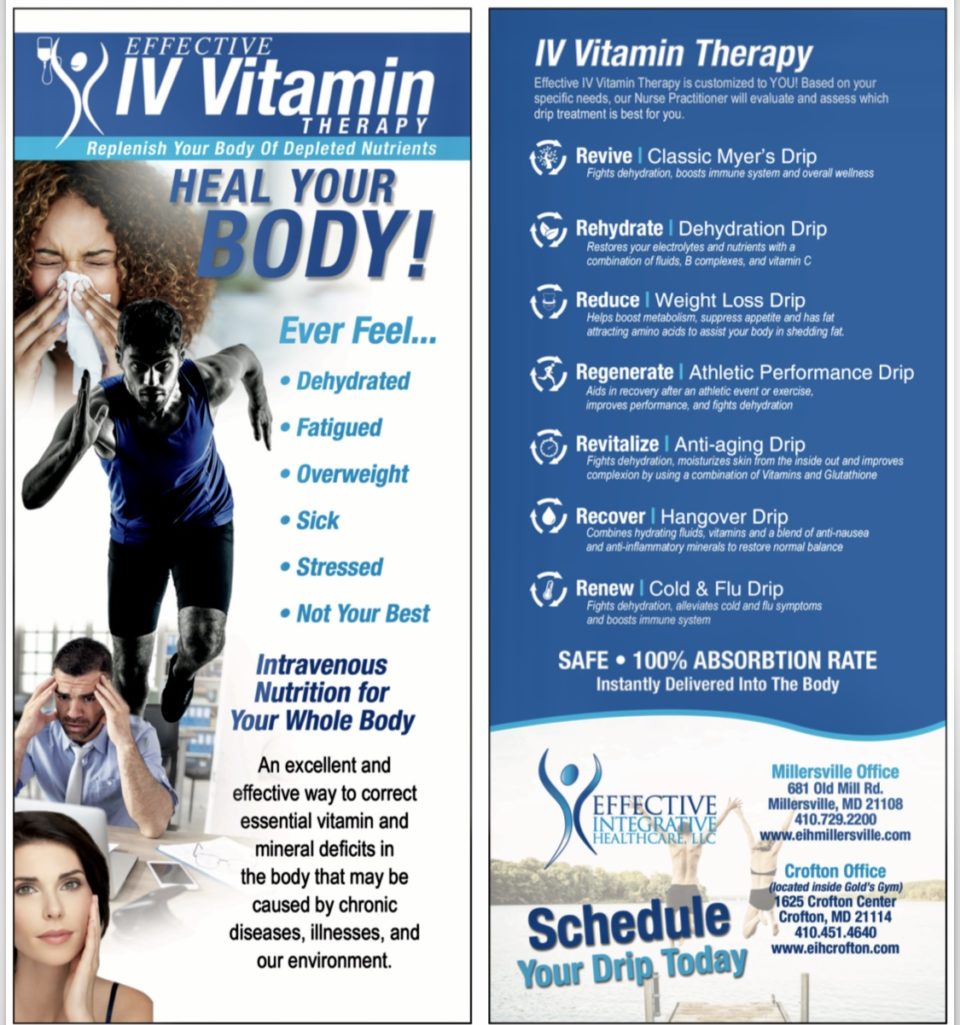 Benefits of nutritional therapy
The nutritional therapy we offer has a number of different potential benefits. Our IV therapy can help as an alternative method for nutrient delivery, resulting in the following:
Improved wellness
Improved immune system/health
Boosted energy levels
Improvement in allergies
Decrease in fatigue
Improved mood
Overall improvement in health
Much more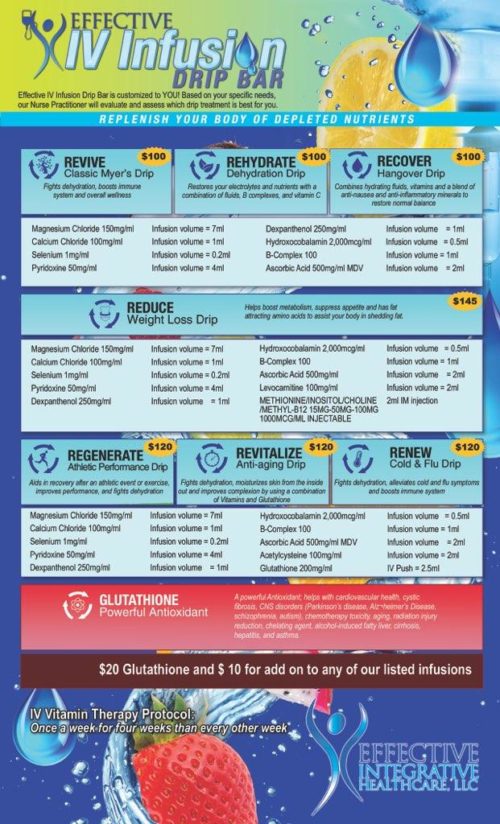 Nutritional IV treatments
Our treatments have been customized to suit the unique requirements of our client base here in Millersville, and we have customized each of our IV drips to suit different needs. Contact us to learn more details about the specific types of nutritional IV therapy we offer, which include the following:
Revive | Classic Myer's Drip
Rehydrate | Dehydration Drop
Reduce | Weight Loss Drip
Regenerate | Athletic Performance Drip
Revitalize |Anti-aging Drip
Recover | Hangover Drip
Renew | Cold & Flu Drip
Not sure which IV treatment would be best for you? Feel free to ask our team. We will personalize a treatment just for you!
Why choose us?
There are many reasons to have your nutritional IV therapy done by the experienced team at Effective Integrative Healthcare. Our professional, friendly staff is always here to answer any questions you may have about this type of treatment, and help you understand how to utilize it as part of a healthy lifestyle. We only use pharmaceutical grade vitamins in our drips, so you can feel good about the quality, and they have a 100% absorption rate. A typical IV treatment will include nutrients such as magnesium, calcium, various B vitamins, vitamin C, and B-12.
In addition to our vitamin supplement IV nutrition program we also offer a host of other healthcare services. We welcome new clients, and look forward to getting to know your needs, as well as helping you with any treatments that will enhance your life. Please make an appointment today to schedule an appointment for soft tissue healthcare, physical therapy, nutritional therapy, and more. Contact us to block out a time that is convenient. We look forward to serving you!
Contact us for IV nutritional therapy!
Schedule Your Free Consultation Today!