Skip to Content
Crofton and Millersville, MD, Chiropractic Office with Hydromassage Technology
We all know the invigorating feeling of a strong, hot shower or Jacuzzi hot tub on sore muscles. This power of water therapy is the theory behind hydromassage, a more focused form of water pressure that can relieve joint and muscle tension along with the many other benefits of traditional massage.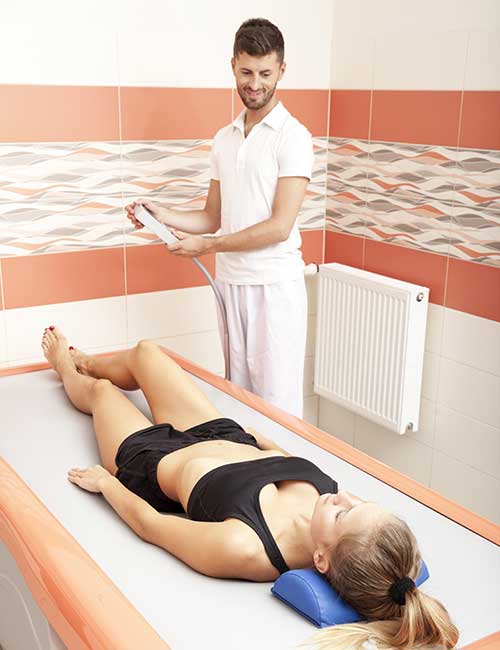 Why Use Water in Chiropractic Care?
At Effective Integrative Healthcare, we often include hydromassage in a chiropractic adjustment either before or after the adjustment exam in order to help you relax, soothe targeted areas of tension, and increase blood circulation. Using patented water-through-air technology, hydromassage maintains a consistent pressure and temperature, even as digitally controlled water jets move across your entire body. Because of the advanced technology within the waterbed, we're able to treat 30 different points on the body with a personalized and adjustable level of intensity, speed, and water temperature.
The Results of Therapeutic Hydromassage
Like a good massage therapy session, hydromassage brings a wide range of benefits, including:
Relaxation and Relief from Anxiety or Stress
Relief from Tension Headaches
Elimination of Muscle Spasms, Cramps, and Tension
Easing of Chronic Pain
Stimulation of Endorphin Release
What a Hydromassage Feels Like
Hydromassage is a great alternative for anyone with muscle tension who doesn't feel comfortable with disrobing or a therapist's touch. While we recommend removing shoes and bulky clothing like sweaters and coats, you'll remain fully clothed and dry during the entire experience. You'll lie down on the massage bed, which looks a bit like a tanning bed, without the claustrophobic feeling of a cover on top. There's no cover, just a nylon lining underneath you to prevent water from soaking your clothes.
Once you're comfortably settled, the program will begin and run for about 15 to 30 minutes, depending on the customized therapy settings we select for your needs. After the treatment, you'll be dry, dressed, and ready to walk back out the door without any recovery time. You'll simply feel more relaxed and in less pain!
Schedule a Massage Today
Please contact our Millersville or Crofton offices to book your appointment. You can also view our Physical Therapy & Rehab page or Massage Therapy page to learn more about similar treatment options we offer at Effective Integrative Healthcare. Based on a free initial consultation with your chiropractor, we can recommend hydromassage as part of a combination of physical and functional medicine to achieve better overall health and a pain-free lifestyle.
Schedule Your Free Consultation Today!