Skip to Content
Resolving Back Pain from Disc Compression in Crofton and Millersvile, MD
If back pain is getting in the way of your daily activities, let our team at Effective Integrative Healthcare help you relieve the pain and suffering. Back and neck problems caused by disc herniation and degenerative disc bulging can cause severe and chronic symptoms, but modern spinal decompression therapy in our office is one of the best nonsurgical pain treatment methods available. The procedure can improve healing and relieve radiation of pain, numbness and tingling into the arms and legs by helping to alleviate, improve, and revitalize the pressure between individual discs in your spine.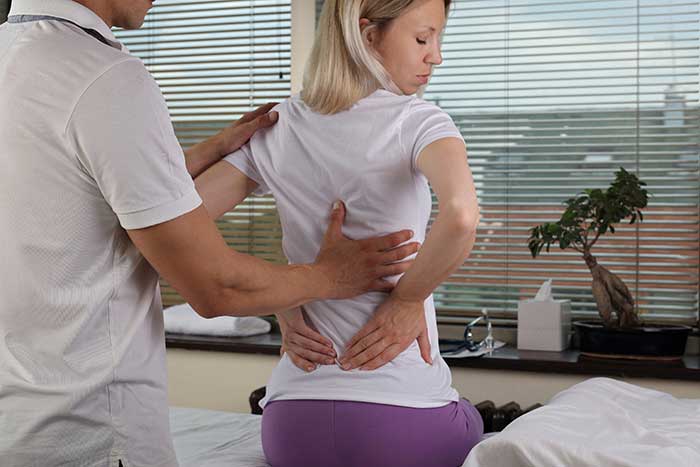 What Does Decompression Therapy Involve?
SpSpinal disc decompression therapy to alleviate back and neck pain relies on FDA-approved, nonsurgical equipment to gently stretch and elongate the spine into a straight, neutral position with the appropriate amount of space between each spinal disc. Fully dressed, you'll lie on a table with adjustable harnesses around your hips and torso for low back decompression and around your forehead for neck decompression. Each treatment session in our office takes less than an hour, about 20 to 30 minutes, and we'll repeat the process over the course of several weeks determined by the severity of disc compression. This treatment works the best in combination with chiropractic adjustments and other physical therapy modalities offered in our office.
Stretching your spine will slowly take pressure off the spinal discs and the associated hernia or nerves, immediately relieving the pain and simultaneously allowing water, oxygen, and your body's natural fluids into the space for healing.
How Well Does Disc Compression Therapy Work?
According to reports from Today's Chiropractic, spinal decompression studies give the treatment an incredibly high success rate—between 71% and 90% success in treating patients with herniated and degenerative discs (depending on the study). 86% percent of patients experience an immediate resolution and relief from pain after their treatment. One year after treatment, only 4% of patients experienced a recurrence of the symptoms.
Your individual results will vary based on the severity and time since the condition developed or injury occurred, as well as your ability and willingness to follow the complete treatment plan recommended by our team of providers.
Patients Who Are Candidates for Spinal Decompression Therapy
If you suffer from the following conditions, our spinal decompression therapy may be beneficial:
Bulging Spinal Disc
Injured Ligaments
Injured or Diseased Nerve Roots in the Spine
Injured Tissues
Posterior Facet Syndrome (a Term for Worn-Out Joints)
Sciatica (a Pain or Tingling Caused by a Pinched Nerve)
Spinal Disc Herniation
Find out More About Disc Compression
Our Millersville and Crofton chiropractors can design a plan that encompasses state-of-the-art treatments to fit your needs. We can help you recover from your acute back injuries or chronic spinal problems so you can return to your day-to-day activities without pain. To support your overall health and full recovery, in addition to spinal decompression therapy, we also offer spinal rehabilitation, physical therapy, and natural pain management. For a free consultation, please contact our team at either office location to schedule an appointment.
Schedule Your Free Consultation Today!