Skip to Content
Helping Crofton & Millersville Patients Resolve Back Pain
Is back pain getting in the way of your daily activities? Are you finding it increasingly difficult to do things you once did with ease? Back and neck problems caused by disc herniation and degenerative disc bulging can cause severe, chronic symptoms. Many patients experience intense pain, numbness, tingling, and weakness If you are experiencing these issues, our local chiropractic office performs disc decompression that can resolve your pain quickly. The team at Effective Integrative Healthcare helps patients in Crofton and Millersville, MD, put back pain behind them.
What Is Spinal Disc Decompression?
Modern nonsurgical disc decompression therapy in our chiropractic office is one of the best nonsurgical pain treatment methods available for disc herniation and other conditions. The procedure can improve healing and relieve radiation of pain, numbness, and tingling in the arms. It does this by alleviating, improving, and revitalizing the pressure between individual discs in your spine.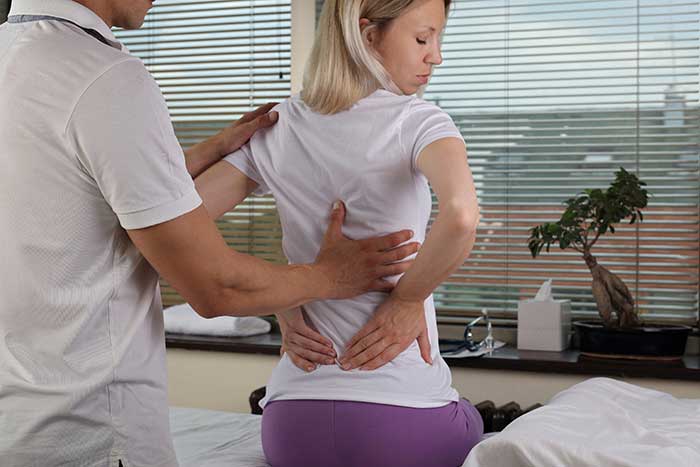 Safe Disc Decompression in Crofton & Millersville, MD
The majority of patients can benefit greatly from disc decompression. The team at Effective Integrative Healthcare is trained to perform different chiropractic adjustments for a variety of conditions. We take great care in keeping you safe and at ease in our chiropractic office. Pregnant patients and patients with high blood pressure, glaucoma, and some types of ear problems should not undergo disc decompression.
Benefits of Disc Decompression
Treat pain without surgery or painkillers: Bulging spinal discs can be a serious medical condition. Chiropractic care at our Maryland offices allow you to treat these issues before surgery is the only option left. This can save you weeks (or months) of recovery time.
Target your pain at the source: Effective Integrative Healthcare doesn't just treat your symptoms. We use sophisticated decompression and adjustment methods to target your ailments at the source.
Relieve or eliminate disc pain: Most patients who undergo spinal decompression experience long-lasting benefits. After just one or a few sessions, you will notice your pain decrease or go away entirely. We realign the spine and move your discs into their proper place, which relieves pressure from nerves and muscles.
Promote healing and recovery: Being in constant pain reduces your immune system's ability to fight infections. Disc decompression can reduce your pain, which makes it easier to sleep. This effect compounds to reduce stress and promote your body's natural healing abilities.
How Spinal Decompression Works
Your first visit to Effective Integrative Healthcare will begin with a thorough evaluation of your condition. We will ask you questions about your pain and test your range of motion. This allows us to determine if disc decompression is right for you, as well as what other therapies may benefit you. Our goal is to provide patients with numerous options to improve their lives.
Next, we will begin the disc decompression process. This involves stretching your spine, which slowly takes pressure off the spinal discs and the associated hernia or nerves. We only use proven adjustment techniques, and do everything we can to prevent further pain or discomfort.
Stretching the spine immediately relieves back pain and simultaneously allows the flow of water, oxygen, and your body's natural fluids into the space for healing. These factors work in tandem to promote healing and reduce pain. Over the years that we have served Millersville and Crofton, we have seen patients achieve great results through disc decompression.
Comprehensive Chiropractic Care for Maryland Patients
Our Millersville and Crofton chiropractors can design a plan that encompasses state-of-the-art treatments to fit your needs. We can help you recover from your acute back injuries or chronic spinal problems so you can return to your day-to-day activities without pain.
To support your overall health and full recovery, in addition to spinal decompression therapy, we also offer spinal rehabilitation, physical therapy, and natural pain management. For a free consultation, please contact our team at either office location to schedule an appointment.
Schedule Your Free Consultation Today!