Skip to Content
Chiropractic Back Pain Relief in Millersville & Crofton, MD
Hands-On Healing & Back Pain Relief from a Chiropractor
If your daily life is being hindered by acute or chronic back pain, it may be time to find healing through alternative methods of treatment. Our chiropractors at Effective Integrative Healthcare prioritize your comfort when designing your treatment program. We strive to not only heal your back pain but also to prevent the pain from returning in the future. Applying a holistic healing approach, we target the root cause of your pain. Through a combination of chiropractic adjustments, acupuncture, physical therapy, and other techniques, your back pain can become a distant memory. If you're seeking back pain relief in Millersville or Crofton, MD, we encourage you to contact us and schedule an appointment with our friendly, experienced chiropractors.
Identifying the Most Common Back Pain Causes for Patients
Chronic back pain is often cited as the reason many people miss work or request disability leave. Symptoms range from shooting pains radiating down your back or legs to dull, throbbing muscle aches. Back pain may come and go throughout your lifetime. Anyone may experience back pain, including teens and children, although back pain is more common among adults over the age of 30. The reason for back pain is that it's the bodies way of communicating something isn't right. If acute back pain is left untreated it could lead to long term issues and chronic back pain.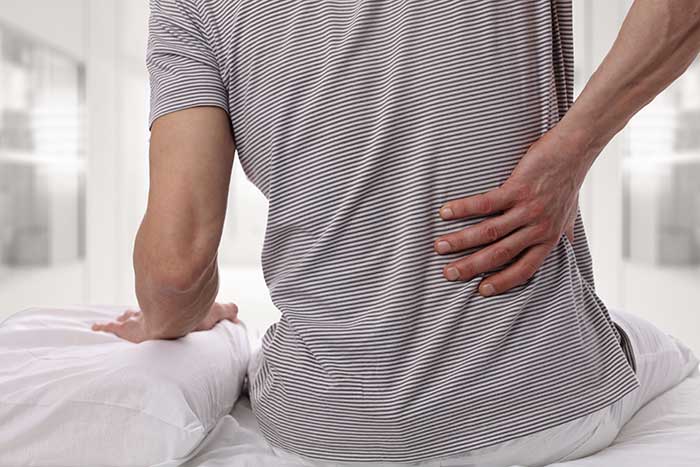 Taking pain medication only masks the symptoms and does not treat the cause which leaves the person more vulnerable for chronic pain. Chronic back pain can last three months or longer. Patients who are obese or smoke may be more likely to develop chronic back pain. The most common causes of back pain include:
Tears in ligaments
Osteoporosis
Back Pain Treatments with Thorough Diagnostics & Examinations
Occasionally, back pain may be indicative of a more severe medical condition. If your back pain is ever accompanied by unexplained weight loss, fever, numbness, or bowel and bladder issues, you should schedule an appointment with your primary physician before requesting treatment at Effective Integrative Healthcare. To treat your back pain as effectively as possible, we'll complete a thorough back pain examination and evaluation. We'll take a closer look at your medical history, as well as your back and muscle structure using state-of-the-art digital X-ray technology. Depending on your age, the severity of your back pain, and other factors, we'll likely recommend a combination of treatments.
Chiropractic Treatments: A Popular Back Pain Relief Technique
Many people seek chiropractic care for back pain relief. It's one of the most popular non-invasive treatment methods requested at Effective Integrative Healthcare. Not only is it used to alleviate pain and discomfort, but it can also help relieve pressure on your nervous system. Chiropractic adjustments are used to reposition discs in your spine, as well as your head, neck, shoulders, and hips. If you were injured in an auto accident or the workplace, our chiropractors would be happy to aid in your long-term healing and recovery efforts with our specialized techniques.
Physical therapy is often recommended for patients with chronic back pain from an auto accident or sports-related injury. Incorporating stretching and strengthening exercises to improve range of motion and reduce pain to more manageable levels, physical therapy and rehabilitation are usually gradual. Physical therapy may be accompanied by Active Release Techniques (ART) to target muscle tension and stretch tissues, but our Chiropractors customize treatment plans accordingly.
Have You Considered Acupuncture to Treat Your Back Pain?
Acupuncture is based on the body's natural healing ability and ancient Chinese medicine. Applying tiny, sterile needles into problem areas, acupuncture helps stimulate nerves and trigger the release of endorphins to reduce pain. This procedure is relatively painless and relaxing for most patients. Acupuncture is commonly used to treat chronic back pain, as well as carpal tunnel syndrome, arthritis, high blood pressure, hormonal imbalances, and digestive disorders. Because we understand many of our patients are new to acupuncture, we do our best to keep you informed and comfortable throughout it.
The human body has various trigger points, or knots of muscles, that can become strained through injuries or poor posture. Trigger point injections involve injecting a non-toxic anti-inflammatory drug directly into the trigger point causing you pain or discomfort. Many prefer this technique over the alternative involving corticosteroids, which can wear out cartilage, bones, or tendons over time. We usually suggest trigger point injections to treat back or shoulder pain, fibromyalgia, or muscle fatigue.
Massage Therapy Offers Physical, Mental, & Emotional Benefits
Ditch chronic back pain and eliminate muscle aches thanks to modern medical massage therapy. Our experienced massage therapists use the latest tools and techniques to diagnose the cause of your back pain and provide a holistic treatment plan. Benefits of massage therapy include a strengthened immune system, improved joint mobility, reduced blood pressure, and improved blood circulation. It can also help you overcome anxiety and depression for improvements in your mental and emotional health.
Back Pain Products and Other Durable Medical Equipment (DME)
In addition to our treatment options for back pain relief in Millersville and Crofton, Effective Integrative Healthcare also offers durable medical equipment (DME). If you experience chronic pain, DME is used to help minimize the amount of stress or tension placed on specific tissues, joints, and bones. Durable medical equipment can range from therapeutics braces to reusable hot and cold packs to support your low back, upper back and neck to help manage your pain to help you continue your hobbies. Please contact us today to find out more about our products and services!
Schedule Your Free Consultation Today!