Skip to Content
Physical Medicine Services
Benefits of Physical Medicine Services
Effective Integrative Healthcare provides physical medicine services throughout Millersville, MD. It is also known as Physiatry. We treat a wide variety of conditions that affect the spinal cord, nerves, brain, bones, muscles, tendons, joints, and ligaments. Our team takes the entire body into account, accurately pinpointing the issue and granting you better performance without the need for surgery. If you have been in an accident or have a chronic injury that left you with severe pain or limited function, physical medicine might be right for you.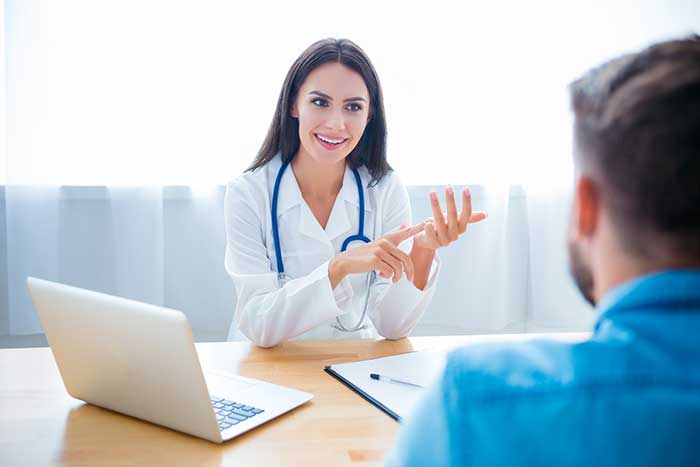 Am I a Good Candidate for Physiatry?
Have you recently had surgery or an accident that you are recovering from? Do you have an illness or treatment that has affected your daily energy? There are plenty of reasons for physiatry for treatment. Others include difficulty moving after an accident or surgery or recovering from a stroke or nerve damage. Other patients have chronic pain from arthritis, back problems, repetitive stress injuries, and other issues. Excess weight gain is another popular reason due to cutting down on abilities to exercise and causing health problems. Some of our patients are unable to exercise due to age or another disability, while others have gone through childbirth or menopause that has made new challenges for them to overcome in their physical function. No matter what you're dealing with, we're here to help.
Developing a Plan for You
During your first appointment, our physician will assess your condition. We'll go over your needs, experiences, expectations, and discuss severe medical illnesses. From there, we'll develop a treatment plan unique to you and your situation. Once we have a clear understanding of your situation and your body, we'll work together to overcome limitations and start the healing process.
Our team will find the right type of exercise to strengthen your body and overcome obstacles. For example, if you love to run but an ankle injury set you back, we will prescribe low-impact calorie-burning exercises that you can accomplish without pain and discomfort. That way, you don't aggravate the injury while you strengthen your muscles. Along with medication, massaging, and stretching, we can work to prevent future pain and overcome physical barriers. In some instances, surgery may be needed. Our physicians will work with surgeons before and after the surgery to lead to a healthy and safe recovery. Together, our team will design the right treatment plan for you.
Creating Goals and Expectations
Setting goals and expectations prior to your recovery is important. It sets realistic structures and identifies key obstacles to overcome. Whether you're looking to strengthen an injured muscle or find relief from chronic neck pain, we'll work together on your recovery. Some of our patients simply want to walk through their home without wincing at pain. Our personable and helpful team is here for you. We'll develop a rehabilitation and exercise program that works on strengthening your body and relieving pain and discomfort through proper channels. We'll overcome your physical setbacks and achieve goals together.
Schedule Your Free Consultation Today!