Skip to Content
Managing Chronic Pain in Children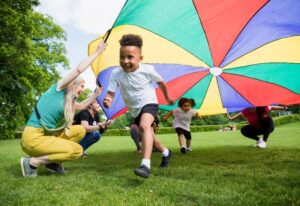 Many people think chronic pain is a problem that only affects adults. However, about 1.7 million children and adolescents in the US—or about 5% of the youth population—suffer from moderate to severe chronic pain. The national cost of treating chronic pain in children is nearly $20 billion per year, representing a significant financial burden for families and society.
As the parent of a child with chronic pain, you may be looking for other options besides prescription pain medication. Rest assured that many drug-free treatments and lifestyle changes can be effective. Here are seven tips to help manage chronic pain in children.
Research your child's diagnosis and symptoms: The first step is to educate yourself. Once your child receives a diagnosis, learn everything you can about it, including the symptoms involved. Some conditions that cause chronic pain in children include juvenile fibromyalgia, rheumatoid arthritis, scoliosis, hypermobility, inflammatory bowel disease, and sickle cell disease.
Don't pester your child about their pain level: You may only be trying to help when you ask your child to rate their pain from 0 to 10, but refrain from doing this too often. Repeatedly asking your child how they feel draws attention to their pain and can actually make them feel worse. Instead, ask your child to tell you if their pain changes significantly. If they don't say anything, don't bring it up.
Encourage exercise: Your natural reaction may be to focus on resting, but safe, approved exercises can improve your child's physical and mental health. With a healthcare provider's permission, encourage your child to take walks, go swimming, or try yoga for kids.
Get on a regular sleep schedule: Maintaining a consistent bedtime and wake-up routine is important for all children, but it's especially critical for children with a chronic pain condition. Getting enough sleep (10 to 11 hours for children and nine hours for teens) can help your child feel less irritable and anxious, which lowers their sensitivity to pain.
Visit a pediatric chiropractor: If your child's chronic pain condition affects their spine, pediatric chiropractic care can help. Realigning the spine can also promote better immunity and nervous system function to prevent other sources of pain or illness.
Work with a physical therapist: Starting physical therapy can be beneficial for children struggling with poor mobility, lack of strength, and limited range of motion.
Schedule regular massages: It's natural for children with chronic pain to have muscle tension. Massage therapy promotes relaxation, improves circulation, and reduces stress.
If you're tired of watching your child suffer from chronic pain, reach out to Effective Integrative Healthcare for help. Our medical specialists can treat your child with practiced pediatric chiropractic care and related therapies, starting with a thorough medical history check and physical evaluation. We'll make sure our services cater to your child's pain level, mobility, age, and overall health. To learn more, please schedule a free consultation at our Crofton or Millersville, MD office location today.